Metrow Brands Kellys Ice Cream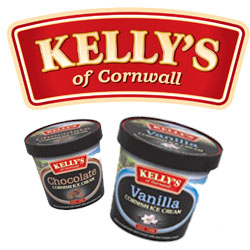 About Kellys Ice Cream
Kelly's of Cornwall dates back to the late 1980's when Joseph Staffieri moved to the UK from Italy and settled in St Austell. Here he started a small business, selling fish and chips in winter and homemade ice cream in the summer. His son in law began to builed the mobile side of the company, first launced with a pony and cart, the origin of the fleet of 40 vans which can now be seen across Cornish beaches and landmarks every summer.
To this day Kelly's is still made with clotted cream and whole milk, fresh from thw cows that graze on Cornwall's green grass. It has a distinctive creamy flavour and velvety smoothness that you won't find in any other ice cream. Check out Metrow Foods range of Kelly's scooping flavours, perfect for any ice cream display cabinet.
Buy Kellys Ice Cream products
Description
Ref.
Price
Qty
Kellys ice cream
---
Kellys ice cream products