Metrow Brands Frank Dale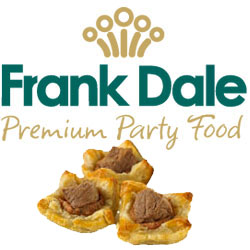 About Frank Dale
Frank Dale foods are specialists in premium party foods. They produce a comprehensive range of convinient buffet solutions, from quintessentially British miniatures and hand crafted canapes to their stone baked quiche pickups.
In the 1980's co-founder Jean Dale began baking traditional quiches, fruit pies and tartlets. Frank Dale Foods launched in 1994 after a huge interest in Jeans quiches had generated. They then launced their innovative range of savoury canapes in 2005, shortly followed by their range of 'British' buffet dessers. Today Frank Dale Foods are the UK's leading premium party food manufacturer, and are always coming up with new ideas in their humble kitchen in Norfolk.
Buy Frank Dale products
Description
Ref.
Price
Qty
Frank Dale
---
Frank Dale products