Metrow Brands Hellmanns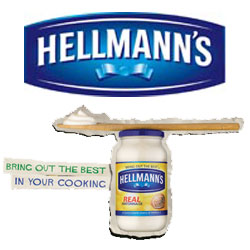 About Hellmanns
Hellmann's was born in 1905 when Richard Hellmann began selling his wife's own recipe mayonnaise from their New York delicatessen. It was so popular he began to sell it in 'wooden boats' used for weighing butter. Hellmanns mayonnaise didn't arrive in the UK until 1961, where it was a relatively new concept.
By the 1980s it was a well established brand and advertised as 'the only mayonnaise', claiming over half of the market. After 100 years it is now much more than mayonnaise with 5 variations on the classic theme of egg yolk, oil and water.
Buy Hellmanns products
Description
Ref.
Price
Qty
Hellmanns
---
Hellmanns products