Pukka Pie Heater Concept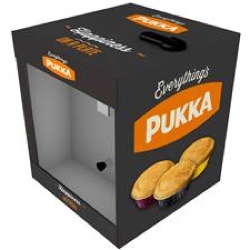 Our Pukka Package
Now introducing a new pie heater package designed for non traditional food outlets

- No other catering equipment required
- Cooks from frozen
- Holds 18 pies
- Includes FOC stock valued at £360 RRSP
- Includes accessory pack (Temperature probe, counter top pos, apron, instructions)
- 2 year warranty direct with supplier
- £349 + VAT Delivered

Building on 55 years of pie experience, every Pukka pie is carefully crafted by our expert bakers, using our unique recipes and great quality ingredients. Each has a light, golden puff pastry case, packed with tender chunks of quality meat in our rich distinctively flavoursome gravies. Remember, we offer the antions favorite range of pies.

*Based on trial in 3 wet led pub. Trial ran between June 2018 - September 2018. Achieved average weekly sales of 44 pies and 32 sausage rolls. Annual profit based on 50 weeks sales. Profit calculated based on average RTM price & average RSP.